2/9/16 -

New Daily EXP Raids:


New Daily content has been added to the Astral Rift, allowing players to complete up to 2 new raids per day for a wealth of experience. Speak to Celio in the Astral Rift to begin your daily training. Any Lvl 75+ character with access to the Astral Rift will be eligible for the first raid, guided by the Astral Training quest. To participate in the second raid for the Astral Refinement quest, you will need to purchase an Astral Aura from the Treasury and use it for the Obtaining the Chalice quest, in which you will be awarded a permanent key to enter the room for the raid. Both of the main quests are repeatable, and each 1-100 man raid will respawn every 24 hours. While the primary focus for these raids is currently EXP, they will eventually serve another purpose in obtaining items required for the next large content expansion coming to the Astral Rift soon!
1/30/16 -

Zombie Invasion Complete & Zombie General Spawned:


With the Zombie Horde wiped out, the Zombie Invasion has now come to an end. You must now however defend the city from the Zombie General! Kill him before he has a chance to catch Diamond City off guard!

Congratulations to the contest winners, placings can now be viewed on the Zombie Invasion page and winners can submit a support ticket to claim their chosen prizes.

Stay tuned for some exciting updates coming in the near future!
1/26/16 -

Preferred Player is Back:


Preferred Player has returned to the game, giving players the option to activate a monthly subscription in return for special upgrades and rewards. There are 3 new PP subscriptions, each with varied prices and rewards. You can purchase Preferred Player by logging on to the RampidGaming website and clicking the "add preferred player subscription" button for the character/s of your choice, or by clicking the Preferred Player banner in-game. This page will also contain all information on package prices and rewards, including bonuses to stats, backpack slot increases, treasury tax discounts and more. The Ultimate Package will also reward you with unique bonuses such as a lucky box (chance to contain potions/dungeon keys etc), DC mob EXP increases and more.
1/16/16 -

Zombie Invasion:


The zombie plague has risen again and is terrorizing the streets of Diamond City! You must help defend the city from the mass horde of undead, aswell as their 3 ruling guardians ordering the attack! Attack as many zombies as you can find to collect zombie brains, fragments and other items used to craft special augments or gear. The event will run for 2 weeks, ending on Saturday 1/30/2016 at 1PM, at which point the Zombie General will appear.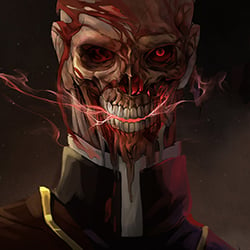 There have been a number of changes / additions for this event, including:
-Mob rage and drop rate increases similar to the War of Zhul event.
-Addition of the Zombie Augment 6 recipe. The Zombie Essence can be obtained from the 3 Zombie Guardians or an extremely rare drop from the 4 normal Zombie Mobs.
-Reduced fragment requirements for the Fragment Experience quest.
-Reduced brain requirements for the Zombie Shield quests.
-Increased EXP reward for some quests.
-The 1v and 2v Augment drops from mobs will now be tradeable.
-Unsheathed Cleaver, Evil Eye and Mask of Infection have been replaced with more powerful items! These items will now also have a rare chance to drop from the 3 Zombie Guardians.

To begin your Zombie Invasion adventure, speak to Cyprus outside the Dusty Glass Tavern and acquire your zombie killing weaponary!

As usual, Macky is willing to help you create Zombie Heads if you help him gather some supplies!

If you are looking for new gear to battle the zombies, speak to Carman and she will gladly equip you with powerful shields in exchange for Zombie Brains. For those with leftover Zombie Brains who are not interested in placing in the contest, she will also allow you to trade them in for experience.

For those with leftover Fragments, hand them over to Dillan for some bonus experience.

For more information including winners rewards for the contest and recipes, head over to the Zombie Invasion page. Please note, you will be able to claim multiple of some keys (eg. 4x Astral Totem). Happy Apocalypse!

Due to unforseen circumstances, we were recently forced to remove a number of items from the game. Therefore, for those of you with missing items after the recent downtime, please contact support asap and we will resolve this issue as fast as we can for you.
1/12/16 -

Zombie Invasion Imminent:


Scouts have reported sightings of a massive horde of zombies approaching Diamond City! It is estimated they will reach the city gates on Saturday, 16th of January. Prepare yourselves for battle champions, fending off these undead beings will be a challenging task!

The event will last for 14 days, at which point the Zombie General will appear. We have also made a number of user friendly changes/additions for this event that will be listed when the event begins.
VIEW ALL