7/18/15 -

Uber Challenge (Ring):


Your skills in the Challenge Arena are continuing to impress. The Challenge King wishes to speak with you again in regards to another exceptionally hard challenge. If you are successful, the Challenge King will reward you with a ring with such immense power, even he fears wearing it.


7/10/15 -

War of Zhul Boss:


The War of Zhul invasion has been put to a stop. Sylastra, Witch of Death is now vulnerable. Defeat her before she has a chance to retreat!

Click here to raid Sylastra, Witch of Death.

Congratulations to the Summoning Shard Contest winners, please submit a support ticket to claim your prizes.

On a side note, Brutus will remain in Diamond City with the Pristine Orb and Zhulian Augment quests until shortly after Sylastra has been killed on both servers.
7/8/15 -

Second WoZ Bundle:


A new Potion Bundle is now available from the treasury! Get your last minute potions and a bonus Advanced Neuralyzer before the bundle becomes unavailable once Sylastra is defeated! To purchase one of these bundles head over to the War of Zhul page!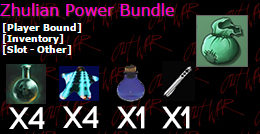 7/1/15 -

New Payment System and WoZ Sales:


A new payment system has been added to replace PayByCash which shut down earlier this week. PaymentWall is a worldwide payment system that supports over 200+ international payment types. Check them out and let us know what you think about them.

To celebrate this new system being added, there will be 2 rounds of bundle pack sales lasting for 4 days each until the end of WoZ. Each sale will offer free bonus items such as keys and potions for purchasing either 5 Recharge the Furys or 5 Potions of Enraged Alsayic. For more information on these amazing deals, head over to the War of Zhul page!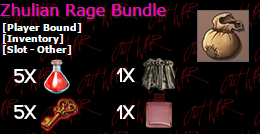 VIEW ALL